Most Able provision
At Larkmead, we believe that all students must be given the right opportunities to enable them to reach their full potential. We also believe that by developing the skills of our highest attaining and most able students, we are raising attainment across our school and enabling all students to succeed.
What does 'Most Able' mean?
'Most able' students are those who are in the top 5% in academic ability based on their KS2 results. You would be 'most able' if you scored a total score of 321+ points across your KS2 Grammar, Reading and Maths tests.
At Larkmead, we identify, monitor and support 'most able' students to ensure they make at least their expected levels of progress, from when they join Larkmead to when they leave. Teachers will be aware of which students are 'most able' and will be providing you with challenges in lessons to extend your learning.
It is also possible you may be 'more able', which is when you have a skill, talent or gift in a specific subject, without necessarily scoring 321+ points in your KS2 tests. Teachers will provide you with additional challenges and support, based on their knowledge of you in that subject.
What is Extended Learning?
Extended learning describes those learning opportunities which take place outside the classroom, such as trips, visits, speakers, clubs and community events. These inspirational challenges will expand your thinking and develop your skills.
Extended learning also includes homework. Show My Homework helps you to track the work set, the resources used and see the homework timetable. Most homework tasks have a choice of challenge e.g. Bronze, Silver and Gold.
Larkmead is proud to be a Visual and Performing Arts school (VPA). We have achieved Arts Mark Gold award based on the quality and variety of our Arts curriculum and events. From school productions, to artists in residence; from dance company workshops to theatre trips; from cultural arts days to performing in the community; the VPA offers students lots of chances to extend their learning.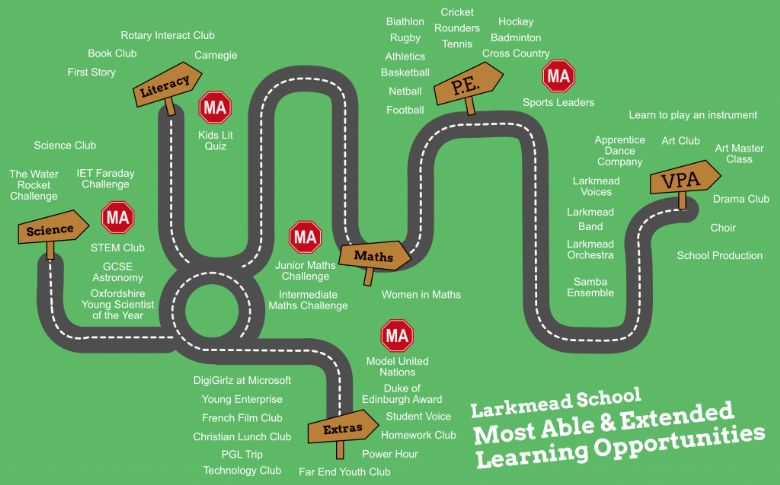 For further information regarding our Most Able programme please contact Miss B Hewitt – Most Able and Extended Learning Co-ordinator.