GCSE Examination results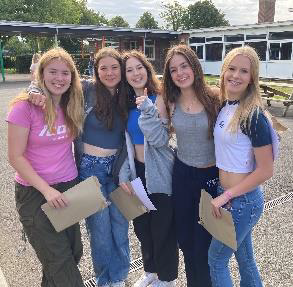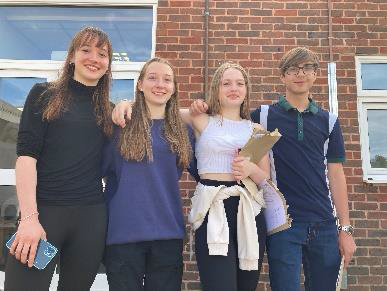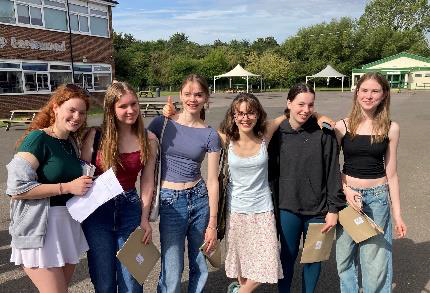 There were smiles and celebrations across the school on GCSE results day 2023. Students arrived early and eager to access the envelopes that revealed the rewards for their hard work and determination. Results across Larkmead were really positive, showing significant progress on both 2019 and 2022, at a time when the national news stories were around tougher grade boundaries and the impact of sustained disruption to education across the country.

The headline measure of English & Maths at grades 9-5 rose 12.2% on 2019 and 8.2% on 2022. The core subjects of English, maths and science rose significantly across the board, and our broad curriculum of a full range of arts, humanities, modern foreign languages, sport and technology supported students to achieve and advance their ambitions. All of this shows the impact of students' engagement and commitment as well as the focus, care and expertise of Larkmead teaching staff.

We are proud of the achievement and progress of our students, with personal success stories across the school. 15% of students achieved 7 or more grades 9-7 (predominantly 8-9) from subjects across the curriculum as well as Additional Maths, Astronomy and Latin.

The results achieved by Larkmead students have ensured fantastic recruitment to Larkmead Sixth Form, and we are delighted to confirm that every single Year 11 student is in education, employment or training, a great testament to the Larkmead career service and our work 'creating futures'.

Pictures include our 3 sets of twins as well as some of our Additional Maths, Astronomy and Latin students.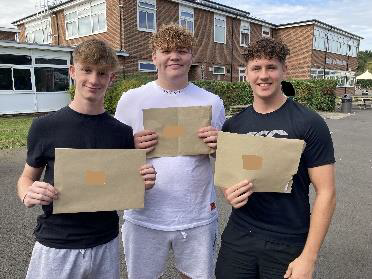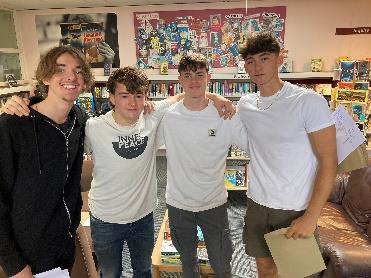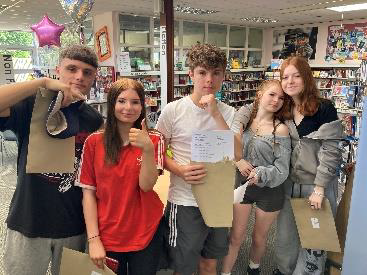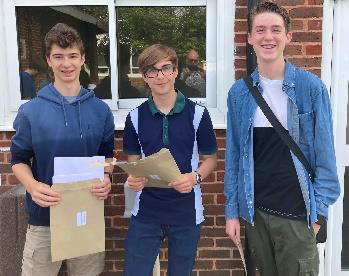 FURTHER ANALYSIS
The key performance indicators that school leaders, parents and Ofsted can use to compare the GCSE outcomes of different schools are:
| | |
| --- | --- |
| 9-4 E&M | The percentage of students gaining a standard pass (grades 9-4) both in English and in Maths |
| 9-5 E&M | The percentage of students gaining a strong pass (grades 9-5) both in English and in Maths |
| Attainment 8 | The average grade (points) achieved by a student across their 8 best subjects |
| Progress 8 | The average progress made by students in the school compared to national figures |
| EBacc APS | The average points score per student across the five pillars of the English Baccalaureate |
Further comparison is available on the school and college performance measures website and the Larkmead performance measures page linked here.
Attainment
Attainment figures for the recent GCSE results are given below. A 9-4 grade is roughly comparable to gaining A*-C in the legacy GCSEs and, in English and Mathematics, is termed as a standard pass under the new system. Gaining a grade 5 in English and Mathematics is termed as a strong pass. It is important to recognise that, with numerical grading, all grades 9-1 are considered as pass grades in all subjects.
| | | |
| --- | --- | --- |
| | 2023 | 2023 National |
| 9-4 E&M | 62% | 65% |
| 9-5 E&M | 45% | 45% |
| Attainment 8 | 45.6 | 46.2 |
Progress
Student Progress is assessed and reported through the Progress 8 measure that compares every student's results with those of students nationally with similar KS2 attainment.
| | | |
| --- | --- | --- |
| | 2023 | 2023 National |
| Progress 8 | -0.16 (Average) | -0.03 |
The English Baccalaureate Average Points Score
The English Baccalaureate (EBacc) is not a qualification in its own right. It represents a measure of attainment across a suite of "traditionally academic" GCSE subjects: English, Mathematics, two Sciences, a foreign language and History or Geography, all at GCSE level. The percentage of pupils entered for the EBacc measures the proportion that study subjects in all five of these pillars.
The EBacc APS calculates a pupil's average point scores across the 5 pillars of the English Baccalaureate, allocating points to a pupil's best grades and dividing by 6 (the science grades count in 2 pillars) to create an average point score per pupil. All students are included in the EBacc APS measure but those who have not studied a subject within any one pillar score zero within that pillar. This means that this figure is considerably lower than the average GCSE result within the school.
| | | |
| --- | --- | --- |
| | 2023 | 2023 National |
| Percentage entered | 23% | 39% |
| EBacc APS | 3.92 | 4.05 |
Destinations
The percentage of students who continue in education or training, or move on to employment in the year after the end of Key Stage 4 at Larkmead School is 100%.