Q&A Session with Carnegie Medal Winner 2020, Anthony McGowan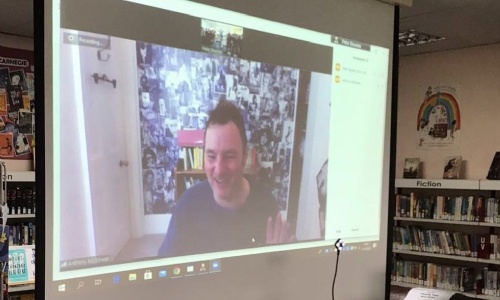 What a treat!
Larkmead Students welcomed Anthony McGowan back to Larkmead School.
Yes! It was Anthony's second visit here (albeit virtually this time!).
ZOOM Q&A with Anthony McGowan, Carnegie Medal Winner 2020
Anthony is recognised for his skilful storytelling, with realistic, relatable plots injected with down to earth humour. His writing not only satisfies the hunger for stories within our prolific, able and keen readers but also reaches out and provides a way in for struggling and reluctant readers; giving all connections.
His winning Carnegie Medal novella is 'Lark'. A story that explores family relationships during a time of survival on an adventure on the North Yorkshire Moors – a situation any one of us could find ourselves in!
Lark is the fourth and final novella in a series of books about brothers Nicky and Kenny. Other books in the series are Brock, Pike and Rook.
Other titles from Anthony McGowan include 'Hello Darkness', 'The Knife that Killed Me' and 'The Fall'. He has written in excess of 40 books!
Anthony let slip that his new book 'I am Minatour' is due for release in January 2021!
Our local Book Store 'Mostly Books' is offering a 10% discount to Larkmead Students on the Carnegie Medal Winner, 'Lark' by Anthony McGowan.
https://mostly-books.co.uk/product/lark-anthony-mcgowan/
Please us the Promo Code by 15th Dec: LMLARK10 for students to receive 10% off
From our Q&A with Anthony McGowan we discovered that he loves to write in The British Library, London and sometimes gets inspiration for characters names from graveyards!
His schooldays has influenced his novellas and the setting for Lark is based upon his own adventures walking and a place called How Stean Gorge.
At the end of our session, students exclaimed 'That was brilliant!'
They were so engaged with everything that he said, listening intently to his answers to their questions.
He also said he'd visit again sometime!
Below are a few images from the event